Immersive Head Up Display (iHUD)
Immersive Head-Up Display (iHUD) is a collaborative project between Centre for Advanced Photonics and Electronics (CAPE) and Jaguar Land Rover (JLR), developing next-generation head-up displays for automobiles with a large projected image plus high resolution, high brightness and depth perceptions, shown in Figure 1. Inventive ways of achieving these features for an augmented viewing experience have been developed and protected. Five patent applications have been filed at the end of first phase (Year 1 and 2), four on HUDs with various ways achieving depth perception and one on the distributed HUD utilising the whole windscreen and vehicle interior.
The project has been extended into the second phase (Year 3 and 4) to implement and test the technologies in prototypes cars, with some important works on human perceptions. Two more patents have been filed, on auto-stereoscopic multi-view HUD for passengers or autonomous vehicles and on polarising screen to remove double images.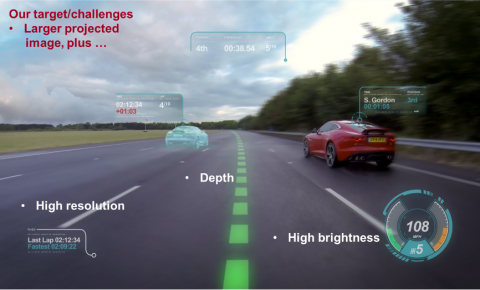 Figure 1. Concept of the iHUD.